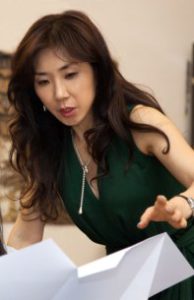 Letter from Director Soo K. Han
I am a passionate art educator.
Watching the talent emerging from a blank slate is what drives me to be more proactive and more creative. My vision is to open up a door to numerous possibilities for potential young artists, prepare them to become successful in their academic career and professional careers.
As an organization, NYART's first and foremost objective is to provide full service academic counseling and customized education to assist each and every one of the students seeking the guidance and expertise. Realizing many people often feel helpless and think of art and design as a foreign field, something that requires a magical gift, I believe my job is to unleash the talent, passion, and potential in them. My role as a director is to be completely aware of each student's situations and needs, in order to lead them to become a strong contender in the competition. From more than 15 years of teaching, I was able to successfully established innovative curriculum with the help from the all star faculty members I am lucky to have. Programs are designed to enhance not only technical abilities but to foster creative thinking and conceptual skills to broaden students' understanding of art and design at all levels.
I welcome you to join the NY ART community, a community where every staff will take care of you like your big sister, and pave your way to the ever growing industry of endless possibilities.
Soo K. Han Director / President
share