SPECIALIZED ART HIGH SCHOOL PREP
For students who develop an interest in art and design at an early age, specialized art high schools can provide professional preparation, as well as a motivational environment for the students to really delve into their field of interest. While talent matters, diligently building your portfolio is a KEY in specialized art high school admissions.
Art High Schools seek candidates with fundamental drawing, painting and mixed media skills. NYART's Art High School Prep Course is designed to prepare you with strong foundations for auditions and portfolio requirements. The course has effectively helped students into such renowned art high schools as the Frank Sinatra School of the Arts and LaGuardia.
 CLASS HIGHLIGHTS
Understanding the basic visual language (Perspective, Composition, Structure, Light&Shadows, etc.)
Drawing (Still Life, Portrait, Figure)
Painting (All Mediums)
Sculpture (3D figure)
Mixed Media (Collage, Assemblage)
 IVY LEAGUE / AP ART PREP

While a good GPA and a SAT score are necessary for IVY League prep, what makes your application shine among other candidates with similar qualifications is a creative and original portfolio. We are here to lead you one step ahead of everyone else.
| | MON | TUE | WED | THU | FRI | SAT |
| --- | --- | --- | --- | --- | --- | --- |
| A 9:30 am – 1:30 pm | | | | | | ✓ |
| B 11:30 am – 3:30 pm | ✓ | ✓ | ✓ | ✓ | ✓ | |
| A 2:00 pm – 6:00 pm | | | | | | ✓ |
| B 4:00pm – 8:00pm | ✓ | ✓ | ✓ | ✓ | ✓ | |
REGULAR

Personalized program for targeted admissions to specialized art high school.

Portfolio, audition, home test preparation.

Customize your class schedule from

12 – 36 classes

in a

12-week

term.


Enroll every 12 weeks
4 hrs / class

 12 classes within 12 wks
$1,200
 24 classes within 12 wks
$2,360
originally

 $2,400 

 36 classes within 12 wks
$3,400
originally

 $3,600 
INTENSIVE

Designed to accelerate portfolio development.

Expedited portfolio completion with high-quality work.

Recommend for those of who need to complete portfolio in a short/limited time with maximum results.

Time-efficient and effective with lower tuition rate per class


Enroll every 8 or 12 weeks
4 hrs / class﹡2 = 8 hrs / day

 80 classes within 8 wks
  (5 days / wk)

$7,360
originally

 $8,000 

 120 classes within 12 wks
  (5 days / wk)

$10,500
originally

 $12,000 

 144 classes within 12 wks
  (6 days / wk)
$12,100
originally

 $14,400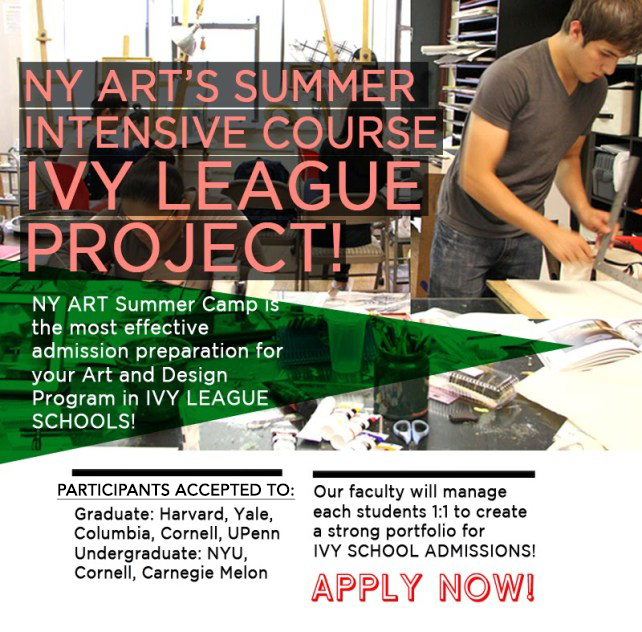 ART CONTEST PREP
Art Contest Prep Program is designed to help students with creative art projects for top art competitions in the nation. This course is ideal for students seeking extra activities to differentiate themselves in a large pool of applicants in college admissions. Through art contests and competitions, students will have the opportunity to publish their work and build confidence.
This course inspires, motivates and encourages young students to develop a creative mind and a sense of accomplishment. From brainstorming to submission to a competition, our team will help you build great experience, as well as a stronger application.

ART CONTEST MANAGEMENT PLAN
Our Art Contest Management Plan is a total care program that manages everything you need in preparing an art contest.
Under this plan, Competition Management Directors and instructors at NYART will handle all the procedures and requirements of the competitions you enter. The package includes special project guidelines, application process assistance, selection of art pieces for a portfolio and professional portfolio photo shoot.
For information on the fees, please contact us.
share